A solid, well-structured tequila with a little barrel aging on it, Herradura Silver is a good choice for full-flavored sipping or high-end cocktails.
Way back in 1870, Casa Herradura was registered as a tequila producing hacienda. Over the past few decades the company has grown its stable of brands, producing one "mixto" name you should avoid (Pepe Lopez), Mexico's best-selling tequila el Jimador (a 100% agave bargain), and the premium Don Eduardo. They've been an innovator and award winner consistently and are the third-largest tequila distillery.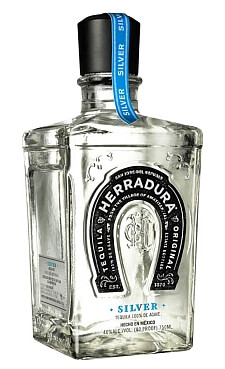 Not a household name in the U.S. but the star of the Tequila Express train is Herradura, a fine tequila that is good enough to sip and is made better than it has to be. As in the reposado version is aged 11 months instead of the minimum two and the anejo is aged two years instead of the mandated one. Even the silver blanco version gets a little oak action though, spending 45 days in barrels to take some of the edge off.
I can't say I've seen this elsewhere and I kind of wonder how it stays so clear if it's been in "toasted oak barrels" for 45 days, but it's the taste that matters and Herradura Silver scores highly on that count. In general, the lowland Jalisco tequilas are less fruity and flowery than the highland ones, so there's often not as much complexity in the blanco versions.
This is a subtle difference that matters little in a cocktail with lots of citrus, but if you're sipping it's noticeable. Whether countering this was the intention or not, Herradura's silver has a good bit more going on—presented with less bite—than many competitors. I'm partial to something with more age on it to drink neat, but this is one I'll take a refill on. The classic toasted agave flavors shine through, but it's a smooth experience.
Since 2007, Casa Herradura has been part of the Brown-Forman spirits company in Kentucky, which has allowed it to expand its distribution and invest in both the local community and more sustainable manufacturing processes. If you want to see their distillery in action, the most fun way is to board the Tequila Express in Guadalajara and get the full-blown mariachi experience as well.
Herradura Silver is widely available in good liquor stores, generally priced between $30 and $40 for a 750 ml bottle. You can often get it in a Mexican bar for 70 pesos or less, so this is a good one for the white part of your red, white, and green tequila bandera order.