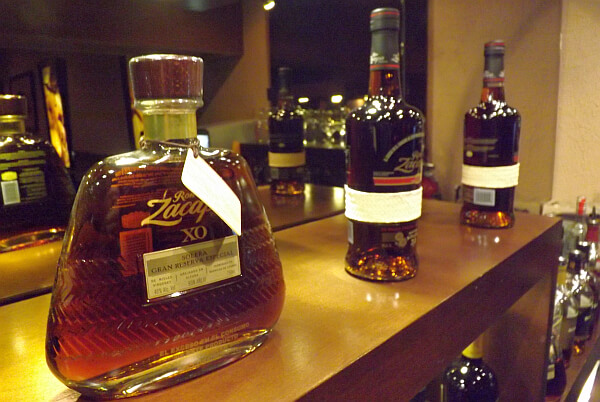 Ask a dozen  rum connoisseurs what the "best rum in the world" is and you'll probably get at least half a dozen different answers. You might just find one name edging out the others though and it's not from anywhere in the Caribbean. Ron Zacapa from Guatemala gets tagged with the title a lot.
I'll go on the record saying this is my hands-down favorite brand and I raved about the 15-year version on this blog back in 2008. (That's now a Botran brand.) I have to admit I'm coming around to liking the 23-year version a bit more each time, so either it's mellowing out over the years or my palate is changing. If you're picking out something to put in a snifter for after-dinner drinks, the Zacapa Centenario XO one I reviewed a while back is really something special—stored in cognac barrels for part of its aging.
I got to return to Ron Zacapa this week in Guatamala City at the Villa Los Añejos VIP sipping lounge. It's right in the main hotel zone, near the top Guatemalan hotels there that we've reviewed, and right next door to the Westin Camino Real.
For rum lovers, this spot is a dream. You can pick from three different flights of tastings, ranging in price from around $14 to $20. There's a Botran round, a Zacapa round, or (what I tried), the three top anejo versions. With that last one you get the 15-year Botran, the 23-year Zacapa, and the 23-year XO. Try getting those three pours in a Manhattan or London bar and you'll be spending as much as you did on dinner.
I reviewed the Botran Reserva Guatemala rum I picked up in a Miami liquor store a couple years back and while it didn't blow me away, it's a great value. It's made by the same company, with the same master distiller (who has been there for 30 years). My English-speaking host at Los Añejos said Botran uses sugar cane harvested in the beginning of the year, while the Zacapa brand uses cane harvested at the end of the year. Apparently that makes a difference as the taste profiles are markedly different. To me, the latter has a much more rounded and balanced profile, tasting mature and structured, with just the right amount of vanilla, cinnamon, caramel, and oak.
Despite all the rum tastings I've done, I always seem to learn something at these things. Here are a few fun facts from this distillery.
1) Guatemalan rum is made from the first pressing of sugar cane, not molasses.
2) They use the sistema solera method, which is a blending of different ages. So the 23-year rum is not all aged 23 years: it's a mix of ages from 6 to 23 years.
3) Barrels are stored upright, rather than on their side, due to the frequency of earthquakes in Guatemala.
4) The distillery is located at 300 meters, but the aging warehouses are at 2,300 meters, in order to allow a slow aging process.
5) Neither facility is anywhere near the town of Zacapa (the name was supposedly made in honor of the city's centennial), but the family name is Botran.
See more info at the company website.
Note that there's also a Guatemala rum tasting area for these brands in the business class lounge at the airport, plus there's a Casa de Ron a couple blocks from the main plaza in Antigua on 4th. These will give you a great opportunity to taste what are surely some of the best rums in Central America, and therefore the world.