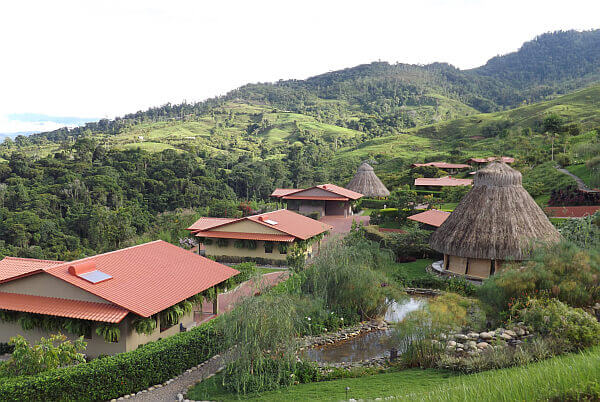 Last summer when we ran down some new and notable luxury hotels that were opening soon, at the top of the list was an ambitious project in southern Costa Rica that aimed to leapfrog over everything else in the country. AltaGracia Boutique Hacienda hotel looked impressive on paper and there was a serious amount of funding behind it. Now that we've seen it in person, we're happy to say it lives up to the promise. This is clearly one of the top three resorts in Central America.
If someone plopped you down in the middle of this vast estate and took off your blindfold, you could be pardoned for thinking it's a very high-end housing development instead of a hotel. That's because every "room" is really a house. At the Four Seasons Papagayo—AltaGracia's only real competition in Costa Rica at this level—there are regular rooms and some suites that are self-contained buildings. Here it's nothing but suites in their own buildings and they're all very spacious. The smallest is bigger than most one-bedroom city apartments, at 1.173 square feet. The next size up is almost double that, with a full living room, large desk, additional half bath, and huge master bedroom and bath, with walk-in closets. Take a tour and check it out:
I don't have photos of the spa since that was just getting the finishing touches when I visited. It'll be the largest in the country by far when it opens though. As with almost any spot on the 850 acres (344 hectares) acres of land, the views are divine.
It boasts a large indoor swimming pool fronted by wall of glass facing the valley, 10 indoor and outdoor treatment rooms, a full gym with excellent equipment, and a healthy snack and drink bar. The men's and women's changing and relaxation areas have saunas, steam rooms, and whirlpools. There are extensive hydrotherapy treatment offerings, including Vichy showers.
The weather shifts a lot on this hilltop next to some mountains, one valley over from the ocean. Clouds and sun play a dance across the sky much of the year, taking turns being dominant. Every suite has outdoor lounging space to take in the view and there are furnished gazebos scattered around the property so groups in different suites can gather somewhere to socialize. There's also a full gym in the spa and a gorgeous infinity pool.
"What would you like?" sums up the leisure offerings here, with a staff to guest ratio of 8 to 1 ensuring that there's always someone around to arrange and excursion or tend bar for a gazebo gathering. The food here is already at a much higher level than you usually find in Costa Rica as well.
The resort is ready for luxury visitors, with pampering service, it's own airstrip, a full equestrian center, and a helipad.
See our full review of AltaGracia Boutique Hacienda hotel.