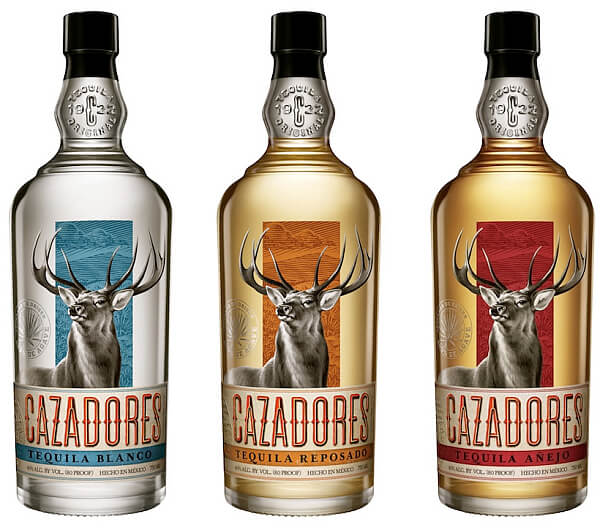 The iconic tequila brands of Mexico tend to differ quite a bit from what you commonly see abroad and one of the most popular throughout Mexico is Cazadores Tequila—"the hunters." With its distinctive buck head with antlers on the bottle, it's long been easy to pick out from the other side of the bar. The design has given it a manly appeal that belies its soft and complex nature on the taste buds. Now it's looking more up to date.
It's kind of tricky buying tequila for a Mexican friend or client since there are only a few premium tequilas most Mexicans think are really worth the price. (They call the $150+ bottles "marketing tequilas" sold to suckers who like to waste their money.) If you're going to spend $100 or more, the only one that won't risk some scorn is Cuervo's Reserva de la Familia. If you want to spend a fraction of that and still get respect though walking into a party, you can't go wrong with Cazadores tequila.
The brand got a nice facelift recently, surely designed to appeal beyond its core customers to younger drinkers. It's still the tequila with a deer on the label of course, but it has a bolder design, plus the bottle looks more expensive. it even has some embossed glass relief writing on the back and front. Despite that, I recently picked up a bottle of the reposado in a Mexican supermarket for the great price of 200 pesos. These days with a devalued peso that's less than $12, so it was a serious bargain. (Update 2020 – it's still about the same amount in dollar terms.)
I have some vivid memories of this brand because many years ago when I was in tequila country, I had my first tequila cocktail with grapefruit juice in it and realized what a perfect combination this could be. I also laid eyes on a couple of beautiful women there who had blonde hair and green eyes, but were Mexican to the core—another first. The place smelled wonderful too. Here's one of the agave roasting ovens in their distillery.
Cazadores Tequila from Los Altos
Cazadores is a 100% blue agave highlands tequila, from the Los Altos region. In general the ones produced in this region differ from their cousins in the lowlands. They're more herbal, more aromatic, and sometimes the citrus overtones are stronger than the agave overtones.
To my taste this one is a representative example. It's well-balanced and the alcohol is shrouded in tastes of honey, melon, lemon, and vanilla. The nose is flowery and pleasant, while the finish is like the lingering of a nice dessert.
This is a versatile one for all occasions. It's something that you could use in cocktails (especially at the Mexican price), but it's also a good sipping tequila, a perfectly good one to pass around and pour into nice talavera cups. No sangrita required, but it wouldn't hurt.
If you buy it in the right store or at duty free, the box looks to have switched from a circular one to a square one. All well and good, though the giant "CAZ" on the side comes off as kind of odd.
This is one of those "go to" tequilas that's easy to find throughout Mexico, from cantinas to high-end bars, from the convenience store to a nice liquor store. It's been around since 1922 and is a good reliable choice that you can drink without putting hair on your chest. I've only had the blanco and reposado versions, but there's also an añejo and an extra añejo version, all double distilled and aged in virgin oak barrels.
It's distributed by Bacardi, so it's easy to find Cazadores Tequila in the USA. See more at the company website.