As I write this there are ice storms blanketing the midwest USA and some parts of the Rockies have gotten a meter of snow. An NFL football championship game this past weekend had to be moved back to allow times to clear the roads.
If you're feeling down from the cold and gray and dreaming of yellow sun and warmth, we've got some ideas for you in Latin America. Head to one of these travel destinations where it's always warm.
Los Cabos, Mexico
Mexico's favorite destination for west coast luxury travelers is adding more upscale hotels to the scene this year and flight options keep increasing. Some of the beaches here are too dangerous for swimming, but they're dramatic and gorgeous, plus this is Mexico's top golf destination.
Here's what the daily highs and lows were the week before I put up this post in mid-January:

Check out our reviews of the top luxury resorts in Los Cabos and view flight prices here.
Cancun & Riviera Maya, Mexico
For those in the eastern half of the USA and Canada, it's usually quicker to escape to the Cancun airport than anywhere else perpetually warm except Miami. That's because there are direct commercial flights and charter flights from a long list of cities. If you can't get there direct you can arrive via one stop at a hub. Nearly every airline in North America flies here, including JetBlue and Southwest.
You can be on the beach a half hour after walking out the airport door if you go to Cancun. Or head south to the Riviera Maya for more low-slung resorts that aren't packed in next to each other. Or to really feel like you're getting away from it all, head north to Holbox Island. See the best luxury hotels for all three options here.
Belize
There are only two kinds of weather in Belize: sunny or rainy. It's more often sunny and always warm, including in the water. Unless you go down deep into the blue hole as a scuba diver, you're unlikely to experience any change in the water temperature no matter what time of year you visit. From Ambergris Caye down to Punta Gorda, you're sure of never needing a jacket on land either. There are almost no chain hotels in this whole country, just friendly independent luxury hotels and resorts. See the best ones here.
Belize doesn't have as many flight options as some of its neighbors, so check from your city here.
Costa Rica
The highlands of Costa Rica are not very high, so this country has a warm and tropical climate all year long. If you come during your summer school vacation from the USA or Canada, however, there's a good chance you'll get rained on during what they call "green season." If you head south during winter, however, you'll experience temperatures in the 80s F from Guanacaste down to the Osa Peninsula.
See more on luxury travel in Costa Rica here. Best February flight deal: Chicago to San Jose CR for $275 round-trip on Copa, $314 on Avianca. See all the options on Skyscanner:
Panama
Do you want to really warm up? Unless you head to the highlands, there's a good chance you'll work up a sweat in Panama without doing much. This is a great destination for beaches and birds, wild islands and wildlife.
See where to stay in Panama here. Copa Airlines is based in Panama and they allow a stopover if you're headed somewhere else.
Nicaragua
This may be the best value in the Americas right now thanks to great prices and a strong U.S. dollar. The infrastructure gets a little better each year and new luxury Nicaragua hotels are starting to pop up here and there. You can still feel like an explorer here too since there's nothing close to mass tourism yet. Plus it's always warm unless you head to the tops of mountains.
While we're not big fans of bare-bones Spirit Air, the fact they fly here helps keep a lid on overall prices on better carriers.
Cartagena and Medellin, Colombia
Cartagena is often the best South America flight deal you can find from many U.S. airports, sometimes coming in lower than the Caribbean. When you arrive you won't find a routine resort city though: this is a UNESCO World Heritage site with a huge Spanish colonial fortress and walled city. It stays tropical hot all year long.
Medellin is one of those "eternal spring" climates where it's pleasant all year long. As I write this in January it's in the high 70s F almost every day, in the high 50s at night. There are lots of flight options to here and frequent connections via Bogota on Avianca. We found flights to Cartagena for under $500 round trip in February from Cleveland, NYC, and Chicago, and for $650 from D.C.
The Amazon Jungle Region
If you want to cruise the Amazon in a luxury riverboat or visit a jungle lodge in Peru or Ecuador, you are definitely not going to face any wintry weather. Ever. The average daily high is between 87F and 90F every month in Iquitos, Peru for instance.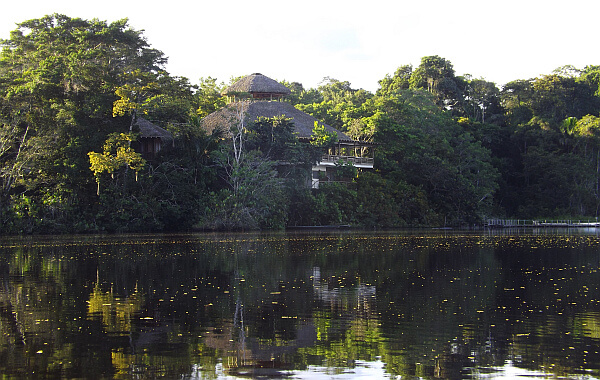 Many tourists visit here after  going to other parts of Peru, but if you want to fly straight there it'll normally run at least $800 in economy or $3,000 in business class from New York City via Lima on LATAM.