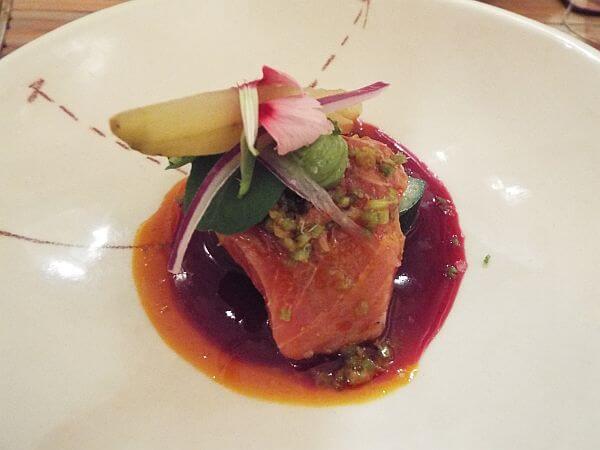 While we often think of Mexican food as one long list on a menu, there's actually a lot of variation between regions of the country and Guadalajara has its own spin on things. The second-largest city is also a culinary destination with plenty to try, so we recently posted a story on eating and drinking for three nights here and in the town of Tequila.
Our duo with the tough task of researching this article hit the highlights of Guadalajara, dining at well-regarded spots P'al Real, Anita Li, Alcade, Res Publica, and Hueso. All are distinctive looking, but decade-old Hueso wins on the originality front.
Inside and out, the place is bone-white, covered in the femurs, jaw bones and craniums of hundreds of species of mammal, fish and fowl. It's an intense introduction to an intense food experience, that while casual and welcoming (in particular the long family-style table that accommodates guests running through the middle of the dining room), is anything but meek in its representation of flavor and spice.
Hueso is also a good place to see what a chef can do when taking traditional Mexican ingredients and contrasting them with items or techniques from outside the country, creating bold new flavors.
Guadalajara also has a reputation as a good craft beer center, in a country where small batch brewing has been an uphill battle against an entrenched duopoly. The first stop was El Grillo, a showcase for independent Mexican brews, then a private tour of Loba Brewery, which makes six different beers in a centro location that will soon have a brewpub.
Weekends in the Jalisco Countryside
Many who can afford it escape the bustling city on the weekends and head to the countryside. What better small town to spend it in than one embodying what Jalisco state is all about? So the last stop was the town of Tequila, one of the original "pueblos magicos" before that term got over-diluted with less worthy contenders.
Few visitors did more than eat lunch here before taking off in the afternoon, but Tequila is upping its culinary game with the opening of Solar de las Animas Hotel, a venture from the Cuervo company that gives people a reason to stick around longer.
Of course you have to do a tequila tasting while in Tequila, learning the differences between the flavor profiles of blanco, reposada, and añejo. It's even better if you can do a food pairing later. La Casona Antigua, in the new luxury hotel, is the best place to do that. You can discover typical dishes from the region there, or be adventurous with one of the chef's own inventions.
Guadalajara is not high on the wish list for most visitors coming to Mexico, but if you do make it there, take some time to get recommendations and savor what you find.
"Leaving was hard, as every single person we talked to suggested another great restaurant, another incredible craft beer, a bar we just had to visit, a coffeeshop that would put us into a caffeine frenzy." See the full story here:
Three Delicious Days in Guadalajara