Want to try some of the planet's highest-rated rum brands when you travel? You'll have it pretty easy in some parts of Central America.
You can draw a circle on one part of the globe and fit the origins of nearly all of the world's best rums in that area. A few Caribbean islands will be in that circle, a bit of South America too. If you travel through Central America though, you can sample some of the ones that compete with Barbados and other better-marketed areas for gold tasting medals. Also, despite all the accolades and write-ups, they're surprisingly affordable as well, even if you go straight to the top of the quality pyramid.
Guatemala Fine Rum
Ron Zacapa
We have to start with Guatemala because, if there's one rum that regularly comes out on top with rum aficionados, it's Ron Zacapa 23. For many of us who have sipped dozens of different rums, this is the gold standard by which all others are measured. It has won a slew of awards nearly every year and was the first inducted into the International Rum Festival's Hall of Fame. Some are put off by the number, thinking 23 years is a long time to sit in a barrel in tropical temperatures. These barrels are stored at 2,300 meters though, not sea level, and the rum is actually a blend of barrels aged 6 years to 23 years. We're not sure what the proportions are, but in the glass this is a perfectly proportioned rum. It's a steal at less than $50 and you can sometimes find it for less than $40 on sale or at duty free shops.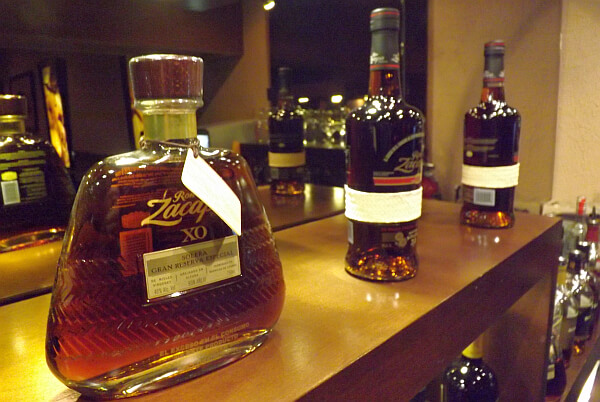 If you want an after-dinner cordial that's different, try the Ron Zacapa XO. That's the rum above, but with extra time spent in French oak barrels that previously held cognac. This interesting combination brings a whole other range of flavors to the mouth and smells to the nose, especially if you drink it from a brandy snifter. In a heavy, fancy bottle, this one will be an appreciated gift for and rum or spirits lover on your list.
There's a new Zacapa Edición Negra that I haven't seen in stores yet but I'm looking. It's rum aged 6 to 24 years, with the last part being in former "American whiskies and Pedro Ximénez wine" barrels instead of cognac. I don't see that working as well, but I'll cover it on this blog when I find a bottle or see it in a bar.
If you're wondering what happened to the Ron Zacapa versions with an aging year number in the teens that you tried a decade ago, they just have a different name. Botron is the sister brand of Zacapa, under the same company ownership. The bottles aren't as fancy and the name isn't as prestigious, but it has a very similar taste profile. Everything made from this company is derived from first pressing sugar cane, not molasses.
When I did a tasting in Guatemala the host said they main difference in the brands is that they use sugar can harvested in different seasons. Apparently that's enough to impact the taste, but they share the same master distiller and storage facilities. (Fun fact: Guatemalan barrels are stored upright rather than on their side due to earthquake risks.) The company is a little cagey on how long this brand is aged. The top one is Solera 1893, a blended solera rum that is aged "up to 18 years." The Reserva one is aged "up to 15 years" and may have spent some time in barrels previously used for port or sherry. There's also a Reserva Blanca version that's one of the best white cocktail rums around.
Costa Rica Rum
Ron Centenario
If you like the feel and taste of warm liquid caramel going down the back of your throat, you might drink half a bottle of Centenario rum and find yourself sprawled out on a daybed by the pool. This is one of the smoothest and most pleasant elixirs you could hope for in this world and we have to just blame timid marketing for the fact it's not better known outside Costa Rica.
Centenario comes in a range of years of aging and you can even find a variety pack like the one above in duty free stores if you want to sample to see which one you like best. They're all smooth, but they get more complex with more oak at the higher numbers.
Nicaragua Rum
One brand in Central America goes back to 1890 and held strong through all the civil war troubles in Nicaragua in the 1980s: Flor de Caña rum. Now this is the centerpiece company in the big Pella family empire, which includes businesses from department stores to Mukul and Nekupe luxury resorts.
Some have called this the "Harley Davidson of rums" or "the best rum to have with a cigar" because it's hefty, serious, and assertive. There's plenty going on in the complexity department, especially at 7 years of aging or above, but giving it neat to someone who doesn't drink dark spirits often is like giving an 8% stout to someone who normally drinks Bud Light. Work your way up to this one and you'll be rewarded.
Your Grandfather's Rum in Panama
Ron Abuelo means simply "grandfather rum" in Spanish and it's one of those dependable brands that works for any party. The regular version is perfectly fine for cocktails and the versions that are aged more can hold their own with a lot of name brands from the Caribbean. It doesn't belong on the top shelf, but not in the well either.
I tried a rum simply called "Panama" when I was on an Uncruise ship off the coast of the country and…I wish I hadn't. Several of us were tasting the whole selection of what was on the boat in terms of sipping rum and this one was a unanimous last place. The bottle is nice, but what's inside will make you want to refill it with something better. Stick with Grandpa.
Belize Rum
The people of Belize consume a lot of rum, as do the tourists flooding into Ambergris Caye each week. Most of that goes into fruity cocktails or Cuba Libres though, so price matters more than quality. And the prices are quite low: rum just might be the best bargain in a country where things always seem to cost more than you expected. The bottle you'll see the most has a buzzard on the front and is simply called Caribbean Rum, from Cuello's Distillery.
One Barrel
This is a big step up, produced in Belmopan with high-grade molasses and a triple-column still. One Barrel has a standard gold edition (good enough for sipping), and a coconut rum, but look for Don Omario to get more aging.
Tiburón Rum
Tiburon is a little harder to find and is newer, but this shark is at the top of the food chain for fine rum in Belize. It's $30 in the USA, less in Belize, and has won a slew of awards. Produced in small batches but available at the Belize City airport on your way out…