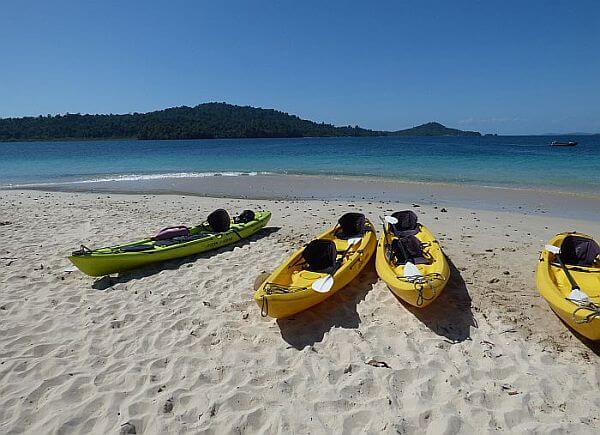 What is your vacation like on a small ship cruise?
Well if it's an UnCruise, the better question might be about what the vacation is like off the small ship cruise. Because if you are on an adventure cruise with that company, you'll spend as much time off the boat as on it. You will eat very well, but you'll have plenty of chances to work off some calories as well.
On our UnCruise Unveiled Wonders of Panama and Costa Rica 8-day trip, we started off in the Panama Canal and ended up at the Nicoya Peninsula of Costa Rica. Along the way we snorkeled, kayaked, paddleboarded, hiked, swam, and spent a lot of time on beaches we had all to ourselves. If you've got a bit of time, settle back with a potential shipmate and check out this video tour of the beaches, the wildlife, and the fun:
A few passengers bristled when I said I was writing about this trip for a luxury publication. In their minds, "luxury" meant being pampered while sitting around doing a lot of nothing. To them this was the opposite of that and they considered themselves "adventurers" or "active travelers," no matter how much money they had.
I would still consider this a luxury adventure though because it hits the other definition: exclusivity. When you go on a small ship trip with UnCruise, you get into bays where you're on the only boat around, places no gargantuan cruise ship would ever be allowed. Plus with fewer than 60 people on board at capacity, you'll get to know your shipmates and won't feel like a number. There's a high crew-to-guest ratio and our guides were a mix of foreigners and locals, all of them well-trained and knowledgeable. Our guides were really well-versed in the flora and fauna of this rich region, having grown up around it all before studying formally.
A few other things ticked the luxury boxes for me. The bar—which is all-inclusive with the meals—was well-stocked with fine rum from Panama and Costa Rica, plus we had Ron Zacapa 23 (one of the best rums from Central America, if not the best) and Santa Teresa 1796 from Venezuela. The bartender whipped up some great classic cocktails and we even had craft beer from Costa Rica on board. The second real pleasure was the food on board, which was high-end restaurant quality despite the limited kitchen size and the need to carry everything on board a ship. The pastry chef was a real magician, putting out some "Wow!" surprise every day at snack time or dessert time.
I was on the 8-day trip, but starting in April 2019 the Safari Voyager sails 9 departures on a 12-night Pure Panama & Costa Rica cruise.
See our full feature story here: Secret Beaches of Panama and Costa Rica on an UnCruise Adventure.