Colombia has never been a country with a history of golf courses and while the country has plenty of coastline, there haven't been many full-fledged beach resorts. Its most popular city for tourists got a boost on both counts this year with the opening of Conrad Cartagena Resort.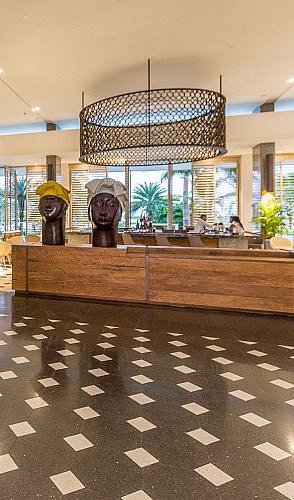 This Hilton brand property is well out of the city, so don't cash in your loyalty points there if you're planning to spend a lot of time strolling the historic center inside the stone walls. Going way out past the airport, however, gave the developers one huge advantage: plenty of space to spread out. They could build a real beach club on the water and build a PGA-level golf course next to the resort. Add in lots of conference space and you've got the kind of meetings and incentives magnet the city has long been lacking.
The 18-hole Karibana golf course surrounding the Conrad Hilton is up to international Tournament Players Club standards, the only one that can claim that in South America at this point. Designed by Jack Nicklaus, it should be able to host tournaments. Along the par-72 course, there are plenty of holes with an ocean view on the back nine.
While other hotels in Cartagena have access to a beach, the closer you get to the port the less inviting the water is, plus none of the beach areas feel exclusive since the whole stretch is public. At the Conrad you get the Karibana Beach Club, which has umbrellas, loungers, a pool, bar, and restaurant.
There's a full spa on site with a long list of treatments, tennis courts, and four swimming pools. So if one spouse is tied up with meetings all day, it's still worth bringing the family along as they'll find plenty to do.
Yes, this is at heart a convention hotel, with 268 rooms, so it's a far cry from Cartagena's luxury boutique hotels in the historic center. That doesn't mean you can't go for special treatment, however. There's the kind of executive lounge level you get at other Conrad hotels, available for a paid upgrade or the right elite-status complimentary one. To really stretch out, however, go for one of the four ground-level Pool Suites with a living room, separate bedroom, and two full bathrooms in 1,313 square feet of space, These also come with their own plunge pool on a large private patio.
With seven restaurants and bars on site, you could get by fine without ever leaving the grounds, but there is a daily shuttle service to the center, taxis are available, or there are some packages that include unlimited private transportation. So some of the trade-off in distance at Conrad Cartagena can be mitigated, plus you get more of a resort feel than you can at any other property in the city—really in the entire country.
See our full review of Conrad Cartagena in Colombia.