Which resorts have swimmable beaches in Cabo San Lucas and the tourist corridor? Where can you walk out of your hotel room in Los Cabos and go for a swim in the ocean?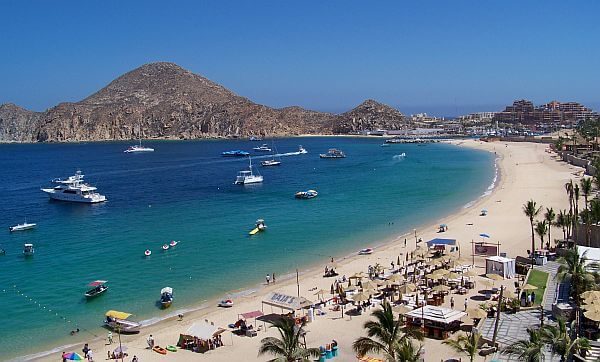 At most beach resort areas around the world, the answer for where you can go swimming from the beach would be "most of them," but for Cabo San Lucas, San Jose del Cabo, and the corridor in between, there's a very short list of swimmable beaches.
If you just pull out a map of the region, you'll start to see why. The Sea of Cortez meets the Pacific Ocean at the bottom of the Baja Peninsula and all that movement under the water has carved out the land extending down. The same reason you can see whales just off shore part of the year and see fishing boats pulling in big sailfish without going out very far is the same reason you can't swim. The depth drops rapidly very close to the shore. So the waves break right on the beach with a mighty force that can knock down a weightlifter like a feather.
Most of the Cabo beaches aren't safe for swimming and have a permanent red flag planted warning you not to go in the water. At some of the most popular luxury resorts in Los Cabos, the beach is for strolling and admiring from the pool, not for swimming.
There are a few swimmable beaches in Cabo San Lucas and the other areas though. Some are right at the resorts, others require a taxi ride or drive. Check current restrictions if there are still pandemic distancing precautions in place, but here's where you can safely go swimming in Los Cabos.
Downtown Cabo San Lucas Swimming Beaches
This Medano Beach crescent of sand by the Marina starts with El Corsario on the southwestern end and goes to Las Viudas along downtown Cabo San Lucas. Most of the beaches run together and have Médano in their name and the hotel they front. The whole area feels like a traditional resort area beach, with boats bobbing in the bay, bars set up on the beach, lifeguards, and people playing volleyball. Because the water here is more protected, including by the little peninsula where the famous arch is, the water is shallower and the waves are not so rough.
There are no true luxury hotels in the center of Cabo San Lucas, but from Grand Solmar and Waldorf Astoria Pedregal the swimming beaches of Cabo San Lucas are a long walk or short taxi ride away.
There are technically 14 different beaches along this stretch that have gained a Blue Flag certification, which is awarded based on cleanliness and stewardship. There are a few all-inclusive resorts along this stretch like Riu, Me, and Villa del Palmar.
Side note: while the beach at the Thompson Hotels property The Cape a bit up the road is not really safe for swimming, it's a very popular one for surfers because the waves break further out than usual. So you can sit on your hotel balcony or by the pool and watch surfers ride the waves all day.
Lover's Beach (Playa del Amor)
You can only reach this beach by boat, which usually means a quick stop on a tour that motors by the famous Arch of Los Cabos. As your guide will surely tell you, it's fine to swim on this side—Lover's Beach—but if you go on the other side of the rocks it's a different story. It's very rough there and that part is called Divorce Beach…
Chileno Bay Swimmable Beach
Once you hit the tourist corridor on the way to San Jose, the swimmable beaches of Cabo are few and far between. As we noted though when we posted our review of Chileno Bay Resort, this luxury Auberge Resorts property sits on a rare tourist corridor beach where you can go for a swim without getting clobbered.
Chileno Bay has been a Blue Flag certified beach since 2013 and has lifeguards keeping watch over swimmers. Although a resort hangs over it, this is a public beach, as all are in Mexico. Pay close attention to instructions as to which areas of El Chileno Beach are fine for going in and which are not—stay in the small bay!
Santa Maria Beach in the Los Cabos Corridor
We recently talked about the new Montage Los Cabos Resort and posted a video tour that shows the stunning beach there. The resort was built on a hillside spilling down to Santa Maria Beach. This beach is another on a protected small bay where you can wade into the water and go swimming among gentle waves. There are some spots by the rocks though where you can go snorkeling and see lots of fish.
Playa Bledito and Tequila Cove
This beach by the Hilton goes by several names and was created by putting an artificial breakwater into the ocean that eventually created a cove with a swimming beach. It's not a large area, so you have to pay close attention to the signs and flags. Go a few minutes in either direction and you'll end up with waves like this instead:
You can reach this cove by taking a 10-minute or less walk from luxury Las Ventanas al Paraiso Resort, so if you're staying there and are craving a dip in the Baja waters, head to Playa Bedito for a swim. It's a longer walk but still doable from the all-inclusive Marquis Resort.
Palmilla Beach of Los Cabos
If you're looking out to sea from the One&Only Palmilla Resort, head left to a long stretch of sand that's safe for swimming. You can take out a kayak or paddleboard or go for a long swim parallel to the beach. This is a longer beach than most on this list, an area where the transition takes 20-30 meters instead of just a few before the water gets really deep.
Playa Acapulquito
This is one of the few swimming beaches not usurped by a luxury resort, one as likely to be thronged by locals and expats as tourists. It's a Blue Flag certified beach that's mostly fronted by condos and mid-range hotels, plus a few obligatory places to grab a beer. Hit the Querencia Beach Club at the southern end if you're in the market for Los Cabos real estate and you like to play golf.
We are not aware of a swimmable beach around San Jose del Cabo, but if we missed one that's been created lately somehow, let us know!