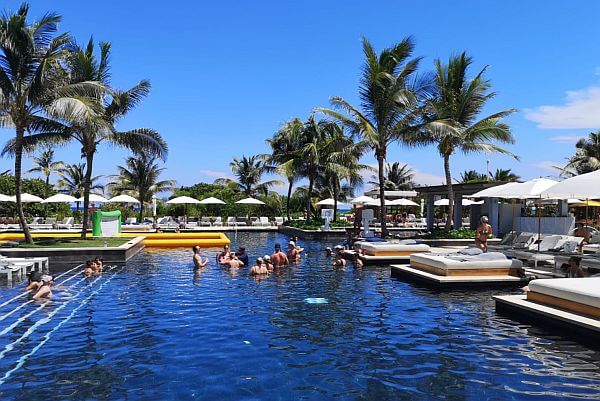 Our latest review from the Caribbean coast of Mexico—the Riviera Maya—is a unique luxury all-inclusive resort, Unico 20 87. Unlike most of them we have covered, this is the place to go if you're not of the age where your children are in college or in the working world.
The big disconnect in the luxury travel industry is that while brands love to feature beautiful 20-somethings without much clothing on in their ads, the people who can really afford the long-established Ritz-Carlton or Royal Hideaway Playacar are more likely to be middle-aged or older and covering up in the sun. Usually when we're out reviewing luxury all-inclusive resorts, the only people we see under 30 are those who are traveling with their parents. Very few people that age are earning enough cash yet to afford these luxury resorts, despite what you see on Instagram.
When you get into your 30s though, you've usually got more disposable income to work with, especially if you don't have kids. Unico 20° 87° (the strange typography designates longitude and latitude) is aimed squarely at this segment of the market. It is a larger resort than most trying to attract high-end travelers, with 448 rooms, and it tries to create a more social atmosphere rather than emphasizing exclusivity and privacy.
It's a place where you can easily rest by or in a pool, but guests are also encouraged to engage with activities and entertainment, including pool parties, floating yoga, aqua exercise biking. or cooking classes by day. Then there are or mixology sessions, salsa lessons, and stargazing in the evenings.
This is backed up by a few different touches that we haven't seen before. A faux street gives the feel of being somewhere like Playa del Carmen rather than at a beach resort, with four of the five restaurants, shops, and a wine bar situated along it. Each guest receives a straw sun hat, but it doesn't stop there. An art station on site lets you customize the hat with your own unique designs. There's also a voucher for customized bath amenities from the spa.
While most resorts south of Cancun end up having a scarcity of post-dinner nightlife spots on site, Unico is geared to those with plenty of youthful energy.
There are plenty of options to let loose or to unwind at Unico 20° 87°, from a movie night by the pool to live music at Palmera lounge, a deck with Cuban vibes from the 1940s. We went for the wine and astronomy session, looking through a telescope at Jupiter's moons while enjoying a glass of red.
Otherwise, you get three swimming pools, a gym, a spa, and non-motorized water sports for working out and getting wet. Rooms are of ample size, with outdoor space and usually a view, plus double vanities in the baths.
Sure, the resort rooms design, pools, and food offerings are not necessarily all that unico on this Riviera Maya coast, but the hotel has backed up its marketing with at atmosphere that will appeal to a younger and more active crowd. "Whereas you can find relaxation, good food and a steady flow of alcohol at many of Mexico's all-inclusives, here it's also easy to pick up a new skill, play a fun game, or enjoy cocktails in the pool with a few newly made friends."
See our full review of Unico 20 87 on our site, with more photos.