In these times of social distancing on vacation and limiting contact with strangers, the once-elite idea to rent a resort for your group or book an entire hotel is looking a lot more practical.
Hotel buyouts for weddings have long been popular, especially for destination weddings abroad. There's a strong appeal to having the entire staff working just for your own private group, without any unrelated strangers in the mix. The hotel management can take care of every detail, so you just order a wedding dress from Dainty Jewells and take off.
Now there's extra incentive though to limit your family's contact with strangers and there's nothing elitist about it. Your risk of catching a virus is decreased dramatically if you know the contact history and sheltering practices of everyone else staying at the property.
Resort rentals are naturally easier when the buyout is a five-room property rather than one that has 200 rooms—though we've heard of uber-wealthy clients booking a buyout of the latter class too just to have it all to themselves. Boutique hotels easily lend themselves to a whole hotel rental. So do small private island resorts like Thatch Caye and Ray Caye in Belize. Some resorts are geographically isolated and even have their own airstrip, so if you're arriving via private plane, you don't even have airport contacts to worry about.
Over time, your options are going to increase as more countries open back up to foreign visitors. For now, however, here are some places where you can rent out a whole hotel or have your own private resort in countries that are open to travelers from other countries. You should always inquire directly for a price quote because there can be a lot of variation in rates depending on party size, services needed, and what meals are included. If this is for a destination wedding, that's going to require several back-and-forth exchanges on top.
This is not an exhaustive list of where you can have a socially distanced vacation for a group or family, of course. It will give you an idea of options in parts of Latin America though for private beach resorts and hotel rentals you can take over completely. With these you can relax together on a private beach, hog the pool without guilt, and have a whole property to yourselves. Most require a minimum booking of three nights, so multiply buyout rates by three for the approximate total before extras for a long weekend.
Rent a Resort or Hotel in Mexico
Mexico was one of the first to open back up to foreign visitors while also putting stringent safety measures in place at airports and resort areas. From Cancun to San Miguel de Allende to Los Cabos, you're free to come visit if you are masked up and getting your temperature taken regularly.
You can go one step further in limiting contact though by renting a whole resort or hotel for your extended family or group. Most properties of less than 10 rooms are open to an offer, including some recent ones we have reviewed like Hotel Amparo and Tres Raices. Here are a few other examples to consider.
Casa de Mita (pictured at the top) is one of our favorite small luxury hotels in Mexico. It's situated on a gorgeous beach in the Punta de Mita area that's hardly ever busy outside of Mexican holiday weekends. It's easy to take over this boutique all-inclusive resort since it only has 7 rooms, plus you receive a discount of up to 30% off what room rates would be if booked individually.
We wish we could beam over to Las Alamandas Resort in the Costalegre region a couple hours south of Puerto Vallarta. You can do the next best thing and fly in though if you've got a plane or want to charter a private one—they have their own airstrip. They also have several of their own beaches to choose from too, places you could only ever get to by boat otherwise. Rates start at around $15,000 with taxes and mandatory service charges for 16 suites that sleep up to 42. You can also do a buyout for their sister property Cuixmala, sharing the same private nature reserve.
Most of the Tulum luxury hotels on the Riviera Maya are small enough for a buyout, though one of the three featured at that link is probably not at 64 rooms. Check out La Valise Tulum and Mi Amor Hotel.
Most of the other high-end resorts in the Riviera Maya have the capacity for 200 guests or more, but there are a few smaller properties that have hosted destination wedding buyouts in the past and will have prices available. Check into 29-room Escencia Resort right on the beach or the ones we've featured on Holbox Island like Hotel Las Nubes.
Private Resort Rentals in Belize
Belize is especially well set up for whole resort rentals since most properties are of a manageable size, privately owned, and secluded. The international airport opens back up October 1 to visitors who arrive with negative test results.
Cayo Espanto has a long history of doing private resort rentals for intimate destination weddings and corporate events. With just 7 villas on its own private island near Ambergris Caye, this is an easy escape for North Americans who want their own private retreat. Costs vary with the seasons but include all meals, well drinks, beer and soda, non-motorized watersports, and butler service.
Thatch Caye is another easy resort buyout option that gives your group its own private island in the Caribbean sea, with all-inclusive rates meaning no extra charges except for boat excursions for snorkeling or fishing.
How about your own jungle lodge on 30,000 acres? At Chan Chich Lodge in northern Belize, your group can be spread out among garden cottages, pool casitas, deluxe cottages, and a luxury cottage as big as a house. Rates vary a lot depending on the season and how many meals are included, so contact them directly to get a quote for up to 30 people.
Ka'ana Resort in the jungle offers a whole property buyout plan starting at $9,520 per night including taxes and service fees. This property has 17 rooms available, including some of the nicest villa suites in the interior of Belize.
The Belize Boutique Resort & Spa (formerly Maruba) also offers a full buyout option for their quirky jungle lodge, which is just 30 minutes from the international airport. Rates start at $4,200 per night for 10 rooms before taxes, including airport transfer, private chef, servers, and 2 vans daily with driver/guide. More rooms are available to expand the package for larger groups.
See our listings for other Belize luxury resorts that you may be able to do a buyout on.
Private Beaches and Your Own Hotel in Costa Rica
Many resorts in Costa Rica easily lend themselves to buyouts since they're relatively small and intimate. As I write this, only Americans from certain responsible states can fly in, but all Canadians and Europeans are welcome.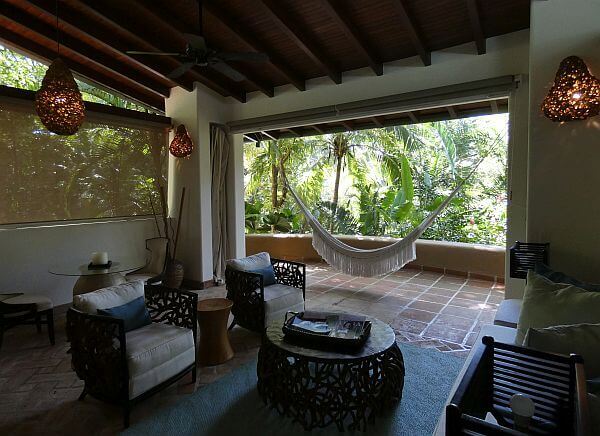 Florblanca is about as close to paradise as we can imagine. It's a journey to get there from the Guanacaste airport in Liberia though, so if you're going to rent this place out, make sure you do it for long enough to truly unwind. Then you'll be oceanfront at the bottom of the Nicoya Peninsula, with some of the most inviting suites in the country. Prices to buy out the whole resort (of 11 villas) range from $5,000 to $8,000 per night, including taxes and all facilities, but not meals or spa treatments.
At Playa Cativo on the Golfo Dulce in the far south you have a small bay and beach all to yourselves. Plus there are miles of jungle behind you and an organic farm growing much of what you'll eat at dinner. Swim, paddleboard, hike, and enjoy. Rent the whole resort of 18 rooms and suites for under $17,000 per night including taxes and meals. Eight of the casitas have private plunge pools.
Kura Hotel in Costa Rica is not on the beach, but all of its eight suites look out at the ocean from the hillside of this adults-only hideaway. Daily buyout rates for up to 16 guests start at $9,700 including breakfast and tax but are negotiable depending on the time of the year and occupancy. The minimum stay is three nights.
Finca Rosa Blanca in the interior is not far from San Jose, so getting there is relatively easy. The property can host a private group of up to 28 people in 14 rooms and suites. You'll be next to wooded areas and a working coffee farm, with a nice buffer around you, plus an experienced staff to make your stay special. The cost is $5,500 to $7,000 per night depending on the season, which includes two meals each day.
Get out into the countryside by a farm and volcano at Casa Turire. There you can rent an entire hotel for a group of 24 for as little as $2,000 per night, breakfast included.
If you need something for a larger group, consider Arenas del Mar on the coast between Quepos and the Manuel Antonio National Park. Daily buyout rates for the 37 rooms and suites start at $33,200 including breakfast and tax.
See all our reviews of Costa Rica luxury hotels and resorts since there are other small properties that you can approach to make arrangements for a private booking.
Nicaragua Hotel Buyout Options
Nicaragua is one of the few countries that never closed its airport, so visiting is restricted only by what flights are available.
Get a different kind of private island at Jicaro Island Lodge in the lake near the colonial city of Granada. Daily buyout rates for 18 guests in 9 casitas start at $4,900 with all meals and taxes included.
We don't have rates for Yemaya Island Hotel on Little Corn Island, but they have frequently rented out the whole 16-room place for yoga retreats in the past. Contact them to get a quote after reading our review from that link.
Rent the Entire Hotel in Ecuador
Ecuador just opened back up to tourists and the Galapagos Islands were, thankfully, never affected by the virus. Naturally they want to keep it that way and you'll be required to show negative test results. You're better off chartering your own luxury ship for that adventure (many sleep 14 or 16—a perfect size), but here are some hotels to consider for a buyout on the mainland.
Illa Experience in Quito is ideally suited to a whole hotel buyout. It only has 10 rooms and its emphasis on cultural experiences and neighborhood walks makes it an ideal base for a whole group arriving in Ecuador.
The upscale jungle lodges of Ecuador are ideal for a private buyout since they are already very secluded and their room counts range from 16 (Napo Wildlife Reserve) to 18 (La Selva) to 26 (Sacha Lodge). Contact them individually for a quote that should include the rather lengthy boat transfers from the nearest airport.
Whole Hotel Options for the Future
Other countries are opening up now that aren't too far down the map, such as Colombia. You can find a long list of boutique hotels there that are ideal to rent out for a group, especially in Cartagena and the Coffee district.
We haven't made it to Cala Mia Resort in Panama yet to include it in our reviews, but hopefully when cases start subsiding and we can all travel freely again one of our correspondents will be able to make it. This island resort looks gorgeous and you can rent the resort for your group for approximately $300 per person per day, including meals and transportation to and from Boca Chica. Details here.
If you have tried to rent a resort for your family trip or a small group and it was successful, tell us about it in the comments!