Have you ever dreamed of exploring the Amazon jungle and river regions on an adventure vacation? We've just posted a review of Anavilhanas Jungle Lodge in Brazil, the latest option we've covered for an excursion to one of the wildest places on the planet.
Anavilhanas is a mouthful of a name, but it's one of the best-known jungle lodges in South America, partly because it's fairly easy to get to compared to some similar places in other countries. It's also known for its dedicated and knowledgeable guides who are ready to show off the Brazilian Amazon, it's people, and its culture.
Most visitors come for three days and two nights, which makes for a packed schedule of meals and excursions. Our reviewer found that didn't leave a lot of room for downtime by the lovely pool or just reading a book in a hammock with the jungle sounds around. You may want to book a longer stay so the pace is not so frenetic. It would be nice to have some non-sleeping time in the attractive rooms.
The lodge has 16 Standard Cottages, 4 Superior Bungalows and 2 Panoramic Bungalows. All rooms are equipped with air-conditioning, a 32″ LCD TV, minibar, private safe, hair dryer, and hot shower (hot water is never a guaranteed amenity in the jungle, so this was a treat). There is also a sofa in the room and huge private hammocks available. The large Panoramic Bungalows are highly recommended if you can book one. They are over 700 square feet and have a 30-foot long glass wall overlooking the Amazon rainforest.
Brazil is open to visitors right now, whether it should be or not, so Anavilhanas is ready to welcome foreign visitors who arrive by plane to Manaus. See our full Anavilhanas Jungle Lodge review here.
Amazon Lodges and Ships in Peru
While much of the Amazon river and surrounding jungle are located in Brazil, that country doesn't have a lock on jungle lodge experiences or river cruises. Peru is home to what may be the most luxurious option anywhere: Inkaterra Reserva Amazonica. It frequently shows up in reader polls as one of the top places to stay in South America.
We've also run feature stories on some other options, like the "deep in nature" Tambopata Rainforest Refugion and private villa, run by Rainforest Expeditions. You'll want to stay a while after the internal flight, one-hour drive, and three-hour boat ride.
One way to experience the Amazon River by actually getting on the water is on a jungle river cruise. While there are several companies plying the waters, the best upscale option is the Aria ship from Aqua Expeditions. We've written about the Zafiro ship from International Expeditions as well here on the blog.
Jungle Lodge Experiences in Ecuador
While the jungle lodges of Ecuador aren't on the Amazon River itself, they are considered to be in the "Amazon Basin" of rivers that feed into the mighty one and you have many similar wildlife options. The three we've covered are next to or in the Yasuni Wildlife Reserve National Park, one of the most biodiverse areas of Planet Earth.
You can't go wrong at any of the three we've reviewed in detail and each has some specific advantages. Napo Wildlife Reserve is the most remote and the local community owns and runs the lodge. Therefore, everyone working there is from the jungle and the money you spend helps maintain the community and the kids' educations. See more about their programs here.
Located on a lake in the jungle, with streams running off in several directions, La Selva Amazon Ecolodge and Spa is in some ways the most luxurious option and it's also known for serving surprisingly good food for such a remote location. As with most of the other jungle lodges, you'll go on quite a journey to get here, but the stretch from the Napo River to the lodge itself is relatively short and pleasurable.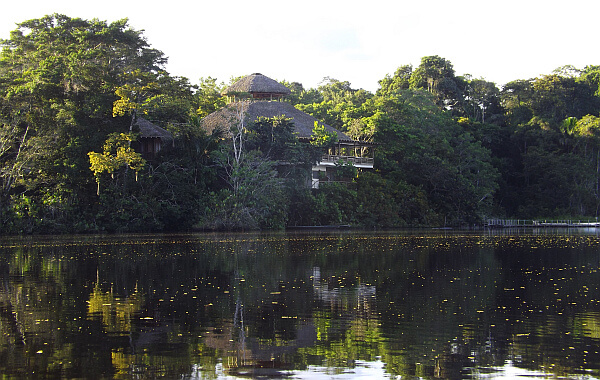 Perhaps the best-known one in Ecuador is Sacha Lodge, requiring the same internal flight and Napo River journey to get close, then a hike, then a people-powered canoe for the last stretch. You'll truly be in nature here and have plenty of wildlife around you.
In these times of social distancing and outdoor dining as I write this, all of these jungle lodges make it easy to stay safe. Only the river cruise ships are enclosed. Once you settle in at a lodge, you'll be in a very small group of humans among hundreds of miles of nature.