Flor de Caña Centenario 12-year Rum is certainly one of the finest in the world. It comes not from some Caribbean island, but from the Central American country of Nicaragua. The name means "sugar cane flower" and it has a sweet smell indeed. (Gringo tip: the last word is pronounced "KAHN-ya," like Kanye West with an ah instead of an eh.)
It kind of goes without saying that anything aged 12 years is meant to be a sipping spirit, not a mixer. I got a chance to sip some, surprisingly, while staying at an upscale all-inclusive resort. I expected to see some good tequila, but did a double-take when I sidled up to the bar at the Blue Diamond Resort in the Riviera May and saw a bottle of Flor de Caña 12-year Centenario rum sitting there on the shelf with faux "top shelf" spirits like Bombay gin and Grey Goose vodka. It took about half a second to decide what to order.
This wasn't the first time I've had this 12-year rum, but the last was many years ago when I was traveling through Honduras and I had a fat hand-rolled Nicaraguan cigar in one hand, this rum in the other. The people that criticize Flor de Caña (and they are a minority) say this is actually the best way to drink this brand as it's got a heavier, darker bite than most others from the region. But I thought I should drink it neat with no distractions to the palate to properly judge it.
After savoring two glasses as I watched the sun go down, I got a pretty good sense of what it's about. It's a complex, well-balanced rum that is consistent throughout the journey: on the nose, in the first sip, in the lingering finish. It's got all the things going for it that spirits geeks get excited about: structure, balance, and depth.
Novice drinkers will taste the requisite caramel, vanilla, toffee, and spices that should come through in any quality rum. Experienced palates will probably detect different nuts, cloves, chocolate, or cloves. This is a rum that rewards time and reflection.
To me though, it's a bit sharper, a bit meatier, a bit manlier than my favorite, Ron Zacapa Centenario 23. For many this extra oomph is clearly a good thing, the same way beer nerds seek out the hoppiest extra-strong ale they can find and some wine drinkers shun even the best Pinot Grigio as blah. There's not a "best rum" out there, but rather a rum that's the best for you. The 100+ awards this Nicaraguan rum has won would indicate that for many rum lovers, it's the best for them.
A Tasting Later at Mukul in Nicaragua
As I outlined in this Flor de Caña rum room post after staying at Mukul Resort, I got to taste the whole range of the rum later on its home turf. (We also have a tour story about visiting the distillery.)
I enjoyed comparing the different versions and seeing how the additional time in the barrel affected the taste. With time to savor, you can really tell the difference. They're all good, but the additional aging makes it a more serious, "darker" taste with the oak asserting itself more.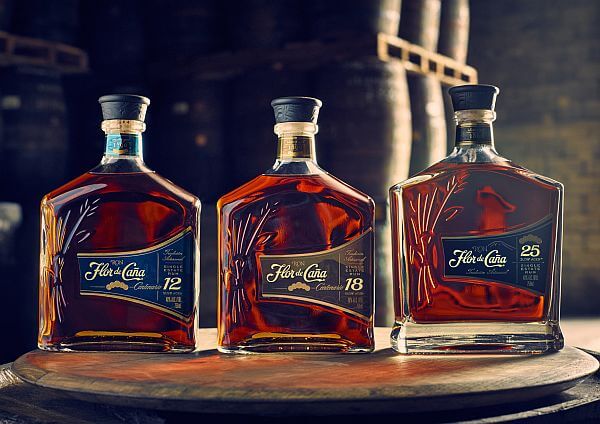 After trying them all, I like the 7-year for cocktails and the 12-year for sipping. While I appreciated the chance to try the 25-year one, it's too much of a good thing for me, especially considering the price premium. That's a long time for any spirit to spend in barrels, especially at Central America temperatures.
You can find this 12-year version in U.S. stores for widely varying prices between $31 (grab it) and $50 (where there are better deals in the bourbon and Scotch aisles). Duty-free can be a different story though, especially if there's a 2-for-1 sale going on. Flor de Cana is usually a fixture in these stores, so keep your eye out.
Where you really find this to be a terrific value is in Nicaragua itself, where it's practically a crime not to drink well since the prices are so good. You can often find the Flor de Caña line-up there for a shade over a dollar per year of aging. So the four-year bottle will cost you under $5. You might as well "splurge" and buy the good stuff. If you don't want to commit, you can order a glass neat in a bar for a few dollars first to try it.
Before I stayed at Mukul Resort—owned by the same family that produces this rum—I heard a rumor that they put a bottle of the 12-year version in each guest's room. I was happy to find out that was true when I checked in (a small bottle, but still…) Now that it's an Auberge Resort, they haven't dropped the tradition and the rum room is still open for samplings.
Naturally you can order it anytime, anywhere when you're staying there, but that's true for almost anywhere in Nicaragua as well. Just understand that you'll usually see the 4-year or 7-year versions in the tall bottle in most local places. You have to go to a nicer bar or hotel to get hold of the 12-year one, or buy a bottle to sip on your hotel balcony.
Keep up with this Latin American travel and lifestyle blog by snagging the RSS feed or following us on Facebook.